About Us
Creating beautiful and functional glass products that anticipate the needs of the industry's leading architectural firms, designers and glaziers is fundamental to how we think and work. These are the essential components that drive our commitment and passion for product innovation, and have been our guiding principles for over three decades.

As a leading fabricator of unique glass solutions, we are always exploring new manufacturing technologies, ways to improve our levels of service, our quality of materials and the efficiency of our in-house production processes so that we are in tune with the needs of our clients.

The outcome of these efforts creates flat and curved glass with superior optical qualities that can be used within a wide range of products for the most challenging building projects. The results of these sophisticated designs produce beautiful, light-filled environments that are engineered to meet the most stringent design, energy-saving and load bearing demands possible.

Cristacurva is proud to offer a broad range of innovative and multi-functional glass solutions that meet and often exceed the specifications of the international marketplace.
Making Advanced
Design Possible

Since 1979
we keep
innovating
and advancing
History
Founded with an entrepreneurial vision in 1979, Cristacurva developed its movement around the special glass needs of the architectural market. A commitment to the industry and the world of design inspired Cristacurva in developing advanced technologies to manufacture custom specialty glass products. These various technologies Cristacurva has engineered and designed through the years have been geared toward fulfilling the evolving necessities and trends of the architectural glass industry. Offering high end products at competitive prices, ensuring the company carries on reputable business practices with constant reinvestments, and operating with a continual improvement philosophy has been our path to success for over three decades.

Thanks to the preference of our clients over the years, it has been possible to constantly increase our productive capacity and position ourselves strategically. In 2016 we increased Cristacurva's capacity with a state-of-the-art plant located in San Juan del Río, Querétaro. This plant is specialized in the manufacture of high quality glass for large projects and buildings.

Regardless of project size, Cristacurva is able to deliver high quality glass products in a timely- efficient manner from three of North America's most modern and cutting-edge glass fabricating facilities in operation.

Philosophy
Cristacurva strongly believes in helping people therefore our way of thinking is centered on support, involvement, and service. We recognize to achieve great things we must continuously progress and therefore we foster learning opportunities and explore areas for enhancement in an effort to strive for excellence. We actively promote a culture where our people work as one because part of our core values is team work.

Even as our organization has grown and expanded, we understand the key to our future success is holding true to our original vision. Building on this philosophy, we have brought aboard the best individuals, products, technologies and processes. We do all of this in striving to exceed our customer's expectations, which is the greatest satisfaction that drives our reason to exist as a company.
Always striving to exceed customer's expectations

Strategic locations
and process
specialization
Manufacturing Facilities
Cristacurva operates in modernized quality oriented fabrication facilities. Each one specializing in key markets and special processes. This enables Cristacurva to have great production capacity and simultaneously master the quality required for each manufacturing process and market segment.

Our plants focuses on highly specialty and complex products such as Curved, Oversized and Decorative glass.

Cristacurva can facilitate projects that require the shortest lead times and competitive pricing with great quality, to the scopes that require complex and long fabrication processes, higher engineering reviews, and the most stringent quality standards.

Through this strategy, we are able to serve a wide range of markets with many different product offerings and competitive advantages, classifying Cristacurva as a one stop glass solution.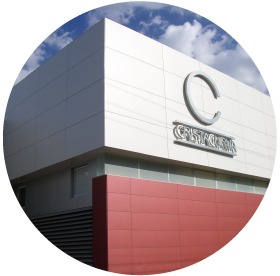 Guadalajara, Jalisco, Mx.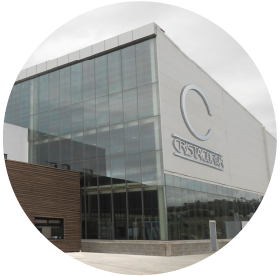 San Juan del Rio, Queretaro, Mx.

Technologies
We are continually upgrading our technologies in order to deliver the finest and cutting-edge architectural glass products to our customers.

• Advanced technology facilities with state of the art machinery.

• Capabilities for oversized flat and bent-glass products.

• High-volume capacity.

• Continuously researching new methods to improve customer service and products.

• Largest selection of oversized flat and bent glass in North America.


Quality
• We have established a continuous improvement culture so that we are always offering better quality and services to our customers.

• Through the years, Cristacurva has proven to be the supplier of choice in North America when it comes to quality and technically complex architectural glass products.

• The quality of our products has earned Cristacurva the ability to supply glass to many modern architectural icons, as well as the trust of world renowned architects, designers, developers, and glazing contractors.

• Clients in the United States, Mexico and Canada recognize us as their best option in quality and advanced technical solutions.
Our Team
Our people make the fundamental difference so that a customer's experience is technically sound and with a subjective touch. Some of the services Cristacurva offers are:

• Customized technical assistance, including calculations, basic engineering, and high-quality CAD production drawings.

• Special engineering services for complex applications at competitive costs.

• Efficient quote turn-around time.

• Efficient logistics and large job control capabilities.

• Express ground and other means of transportation assistance can be provided as needed for expedited delivery.